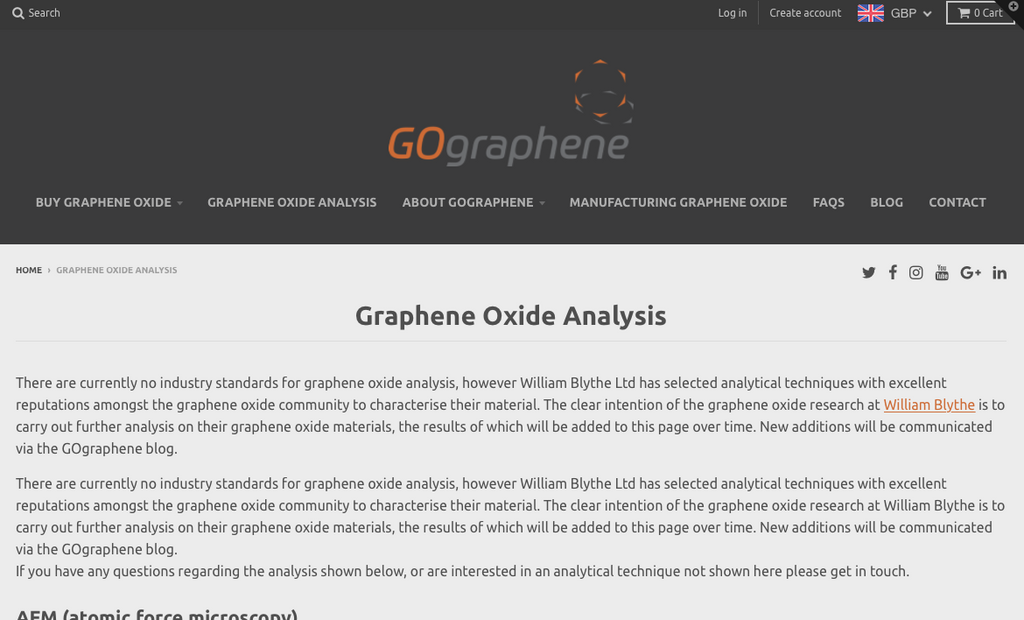 The GOgraphene team have added a new Graphene Oxide Analysis page to the webshop
There are currently no industry standards for analysing graphene related materials, however as the volume of research surrounding this exciting family of two dimensional materials grows, best practises for analysis are emerging. In order to provide the most relevant information to GOgraphene customers, William Blythe has worked extensively to gather high quality analysis using the techniques most appropriate to characterise the graphene oxide materials manufactured at their site in the UK.

Previously, William Blythe has communicated new graphene oxide analysis via the blog and in the specification of the products available online. To make this information easier to access, a new Graphene Oxide Analysis page has been added to the GOgraphene site. Information currently available on the page includes XPS (X-ray photoelectron spectroscopy), TGA (thermogravimetric analysis), AFM (atomic force microscopy), and SEM (scanning electron microscopy) on typical batches of their graphene oxide products. Wherever possible, the results are backed up with visual representations of the analysis, generally in the form of the raw data obtained by William Blythe on their products. The intention of this page is to provide GOgraphene customers with direct access to the most up-to date information on the products they are purchasing. As new analysis is obtained by William Blythe on their products, new entries will be added to the page and any existing information will be updated if new data becomes available. Any new additions to the Graphene Oxide Analysis page will be communicated via the GOgraphene blog, with all entries on the Graphene Oxide Analysis page entered in alphabetical order to make navigation to the data easier.

William Blythe intends to support the development of commercial applications for graphene oxide materials by working with customers. If you have any questions about the analytical results displayed on this site, or would like the GOgraphene team to consider carrying out other characterisation techniques on their products, please get in touch and a member of the team will be happy to discuss your needs further.